Will Matthew Dellavedova and the Cleveland Cavaliers Win the Championship without Irving and Love?
 There's a reason the Warriors won 67 games this season and had the league's second-most efficient offense. When you have someone like Stephen Curry on your team, almost every shot is a good shot.
All of this is why the Cavaliers' 95-93 Game 2 win was so shocking to watch. LeBron James put up big numbers, but he wouldn't have been able to do so if not for Curry shooting 5-of-23 from the field and 2-of-15 from behind the three-point line. Those 13 misses from behind the arc are an NBA Finals record, according to the Elias Sports Bureau. Worse, Curry was just 1-of-8 on uncontested field goal attempts, according to NBA.com. The league's MVP looked like a blind man carelessly heaving balls at the hoop.
Was Curry just ice cold, or did the Cavaliers do something tactically to throw him off?
"It had everything to do with Delly," LeBron James said, referring to Cavaliers guardMatthew Dellavedova. "He just kept a body on Steph. He made Steph work. He was spectacular, man, defensively. We needed everything from him."
There are stats that back this theory up. Curry missed all eight of the shots he took while being guarded by Dellavedova Sunday, according to ESPN Stats & Info. Dellavedova chased Curry off the ball, forcing him to work. He's relentless defensively, a necessary skill when trying to keep up with Curry's numerous jabs and fakes.
There was also this clip of Dellavedova in Curry's grill. ABC showed it in slow motion, allowing it to become the symbol of Delly's hard work.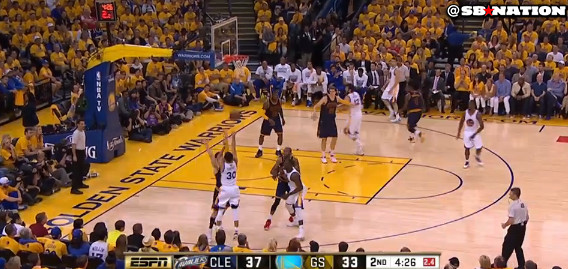 But this heavily contested shot was actually uncommon in Game 2. Curry often had decent looks by his standards. He just missed them.
Shots I normally make I knew as soon as they left my hand that they were off. That doesn't usually happen. I mean, mechanically I don't know if there is an explanation for it, just didn't have a rhythm and didn't find one the whole game.
Curry was asked if he thought Dellavedova did something specific to make life difficult for him. The answer: not really.
Nothing really just besides playing their game plan and playing defense like every pro is supposed to. Not giving up on any possession.

But I doubt this will happen again, with the adjustments I'll make once I'll look at the film.
He's right. The chances that Curry misses so many shots again this series are slim, mainly because so many of his misses Sunday night came on open looks.
Here's a three-pointer Curry missed in the third quarter off a fast break.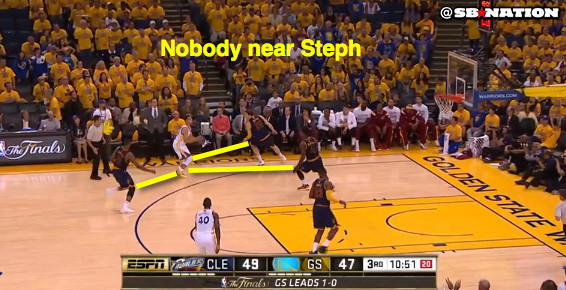 Here's Curry's first shot in overtime, a three-pointer from straight away off a pick-and-roll. That's a shot he's buried countless times this season.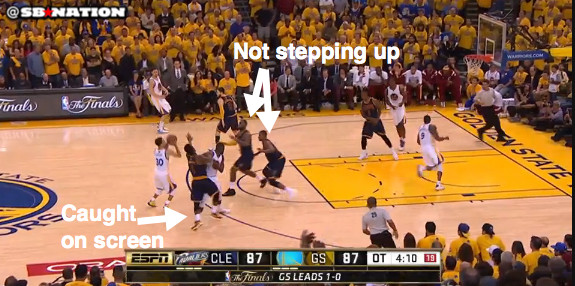 You can find similar situations when Curry was directly being guarded by Dellavedova, too. On this play, Curry ran Dellavedova into a Festus Ezeli screen. With Timofey Mozgov hanging back near the foul line, Curry got another wide open attempt from the top of the key. This is a shot Curry normally makes. He missed it here.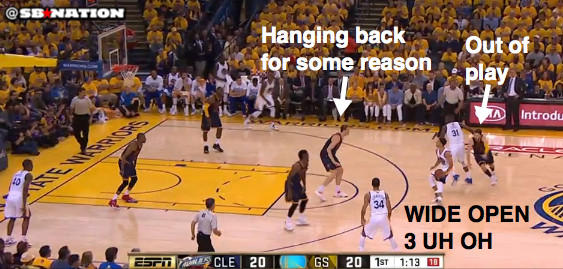 On this play, Dellavedova fell to the floor chasing Curry and didn't get to his feet by the time Curry received the ball. Another great look. Another miss.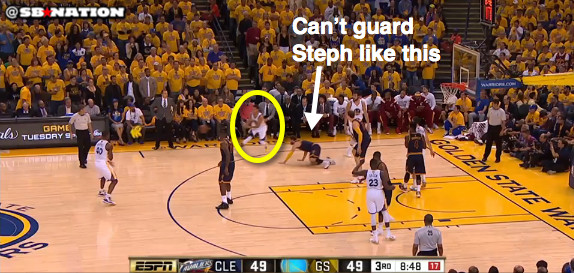 Finally, Curry received the ball in the same spot in overtime and used a ball fake to send Dellavedova flying by. Check out where Dellavedova was as Curry prepared to launch. This is the moment opponents expect Curry to hit a dagger. In this case, however, he missed again.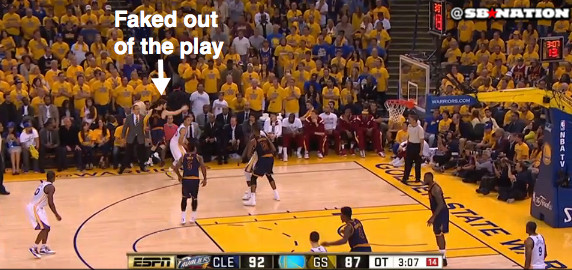 Curry's biggest problem Sunday night was his own decision-making, not Dellavedova's defense. Curry was content launching jumpers from deep instead of trying to get to the rim, even though his best plays all night (such as his game-tying shot in regulation) came when he drove to the basket. Curry had lots of room to attack as Tristan Thompson picked him up on a fast break on this play, but for some reason, he pulled the ball back and launched a three over the taller defender.
Curry's six turnovers were also mostly the result of his own careless play, not some magic conjured up by Dellavedova. One happened when Curry dribbled off Dellavedova's foot. Another was the result of a hard trap led by Dellavedova. He deserves some credit for those two.
But Dellavedova had nothing to do with the other four. One should have been assessed to the passer instead of Curry, while two came off careless passes. On this crucial play in overtime, Curry decided to throw the ball to a covered Klay Thompson instead of a cutting Draymond Green. The pass was intercepted by Iman Shumpert.

Tags: matthew dellavedova cleveland cavaliers 2015 nba champions lebron james
Party Information Request