NBA All-Star Weekend's party scene set frigid Big Apple to a boil
 NEW YORK –- The NBA's midwinter classic has come and gone, and all we are left with is the bitter cold. 

But despite the frigid temperatures, New York City was sizzling during All-Star Weekend. 

From a Kanye West outdoor show in the Flatiron District to a surprise concert by music royalty at the Jordan Brand 30th Anniversary Party, ESPNNewYork.com brings you behind the ropes at some of the most memorable All-Star events. 

THURSDAY 

There were parties as early as Wednesday in the city, including Bud Light MixxTail's pregame apartment party. DJs spun hip-hop in a loft above Broadway near 18th Street with the big game still days away. 
[+] Enlarge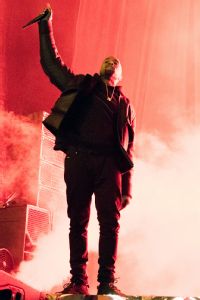 Dave Kotinsky/Getty ImagesKanye West performs at the Roc City Classic in the Flatiron District.
But Thursday night is when things really started popping in the city. 

Kevin Durant and Roc Nation Sports took over the Flatiron District, holding an outdoor concert right off Broadway and 23rd with the incredible backdrop of high-rise buildings behind the stage. 

Longtime hip-hop radio personality Angie Martinez of Power 105.1 kept thousands of fans engaged as they waited in the bone-chilling temperatures. Finally, Kanye West -- fresh off his Grammys stunt when he briefly walked onto the stage as Beck was accepting his award -- stepped up with a few of his friends, including rapper Big Sean. 

Beck fans had their revenge, though. Kanye performed with one of the surrounding buildings sporting a "BECK!" display in its windows. 

Seen in the crowd of thousands (10,000 tickets were distributed) at the first annual Roc City Classic was rapper Drake, who caused a commotion during and after the concert just by walking around Broadway with his friends. 

After the concert, several guests with VIP passes were unable to get into Jay Z's nearby 40/40 Club, where the after-party was held. The club hit its fire-code max capacity –- a common occurrence this past weekend. 

Also on Thursday night, American Express and TNT threw an All-Star party at Hammerstein Ballroom featuring Fall Out Boy. Shaquille O'Neal was even seen getting behind the DJ booth. 

FRIDAY 

On Friday, All-Star weekend got going with the celebrity game at MSG. But even if you didn't have a ticket for that, or for the Rising Stars Challenge at Barclays Center, there was at least one event where fans could watch the game with a soundtrack spun by a famous DJ. 
[+] Enlarge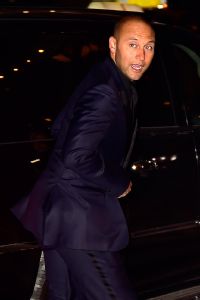 Alo Ceballos/GC ImagesDerek Jeter was out and about for All-Star Weekend.
JBL by Harman hosted a private viewing party for the celebrity game at Harman's store in Midtown. Portland All-Star guard Damian Lillard was there, with hip-hop producer Jermaine Dupri in the DJ booth. 

Further downtown, the Jordan Brand hosted its annual All-Star party, which many consider the event of the weekend. Celebrating the 30th anniversary of Air Jordan, the party was "bigger and better than ever," according to ESPN's J.A. Adande. 

His Airness, Derek Jeter and Jay Z were among those spotted at the party in the financial district. 

The lucky fans who attended got to see Ariana Grande perform -- and then watched as Prince took the stage. 

"Prince went for two and a half hours," Adande wrote. 

Take it from someone who has seen the Purple One perform multiple times –- it's a gift. Prince enjoys his craft and really cares about delivering a memorable performance. 

According to the AP's music writer, Prince brought some celebs onto the stage to jam with him, including Chris Rock, Questlove, Queen Latifah and actress Rosario Dawson. Rapper Nas could be seen singing along to Prince's "When Doves Cry" in the crowd. 

Yeah, that had to be the party of the weekend. 

But there were others. That same night near Korea Town, TNT analyst and New York's own Kenny Smith threw his All-Star party at Pranna. 

Former Jet Antonio Cromartie and other former NBA stars like Ralph Sampson and Antoine Walker mingled in a crowd that enjoyed tunes spun by what basically was an All-Star lineup of hip-hop DJs. D-Nice, Funkmaster Flex and DJ Red Alert spun old-school jams to the delight of the packed club. With Ed Lover at his side in the booth, the legendary Red Alert kept the hits coming while Smith gave shout-outs from his VIP section above. At one point, Smith gave a shout-out to another legendary hip-hop DJ, Kid Capri, who was in the crowd. 

SATURDAY 

Barclays Center was packed for All-Star Saturday night, where the Slam Dunk competition made a comeback thanks to Zach LaVine. 
[+] Enlarge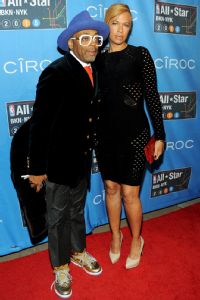 Brad Barket/Getty ImagesSpike Lee and Tonya Lewis Lee hit the red carpet on game night.
Within walking distance of Barclays, Spike Lee threw his "Spreadin' Love is Da Brooklyn Way" All-Star Weekend Sneaker Jam. 

In the city, Jeter was busy playing host at The Players' Tribune party at Canoe Studios. Russell Wilson, Rob Gronkowski, CC Sabathia and Matt Harvey were among those who got to see Common perform and do an epic freestyle shout-out to all the celebrities in the room. 

The National Basketball Players Association party returned to All-Star Weekend on Saturday night, with Fabolous performing in front of a crowd that included the likes of Puff Daddy, Snoop Dogg and DJ Khaled, among others. Capitale, where the party was held, was so packed that security in front stopped allowing people in around 1:30 a.m. 

SUNDAY 

The Garden was as packed as we can remember for the All-Star Game. You couldn't walk the concourse without noticing a New York luminary -- from former Knick Charles Smith to former Yankee Dave Winfield. 

The NBA had musical and Broadway acts perform before and during the All-Star Game. A giant stage took over one baseline behind a basket, and it had a Super Bowl halftime performance production feel to it. Christina Aguilera opened with some help from Nas. And Ariana Grande was the halftime act, with a surprise cameo from Nicki Minaj, who delivered the bang for their hit song "Bang Bang" with Jessie J. 

Russell Westbrook then completed one of the best games in All-Star history with 41 points to win the MVP trophy. 

Despite temperatures that made New York feel like Hoth, the city partied like it was making up for 17 years of lost time since the All-Star Game was last here in 1998.
Will New York be able to Party like Canada though for 2016 NBA All Star Weekend in Toronto?

Tags: nba all star weekend 2016 Toronto All Star Weekend All Star Weekend In Toronto party 2016 nba all star